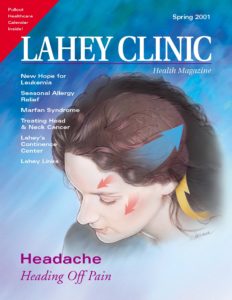 I think the thing I'm proudest of during my tenure at Lahey Clinic is that the magazine for which I served as creative director and chief writer/editor attracted such a widespread audience. On the surface, Lahey Clinic was the kind of quarterly magazine many hospitals send out. At Lahey we placed a premium on relevant, informative articles about medical issues.
As a result, it was routine for readers to call in asking that it be sent to their sister in Pennsylvania, for example, or their friends in the mid-West. By the time I left Lahey, along with our broad mailing to Boston's northwest suburbs, we had a "voluntary" mailing list of some 30,000 readers. I won awards for this magazine but I took that self-generated mailing list as the true sign that we were successful in our endeavors.
Lahey Clinic Magazine and the Lahey Clinic Health Letter, both with their strong focus on health-oriented public education, were central parts of my work at Lahey but during my 21 years there I also created and managed programs involving the full range of marketing communications, from strategic planning and media relations to advertising, collateral brochures, community relations, employee communications and tracking and focus group research.
Since leaving my position as Lahey's Public Affairs Director in 2001, my clients have included hospitals and physician groups in Connecticut, Massachusetts, New Hampshire and Virginia, focusing on magazine articles, case studies, brochures and other collateral and educational web content.
Over a period of several years I wrote a series of articles for the Association of University Technology Managers on topics as diverse as arsenic in water wells in India, shingles vaccines, development of alternative fuels and remediation of contaminated soils. For the Global Health Initiative, I wrote about topics as varied as neglected tropical diseases like Buruli ulcer, anti-malaria programs in Africa and efforts to restart the "TB vaccine pipeline."
Two long-standing projects have involved personal interests — Poseidon's Web, my online magazine on marine life, and Stow Things, a history of my hometown, stow, Mass.
Before joining Lahey, I served as Public Relations Director for George Washington University Medical Center in Washington, DC, where I oversaw media relations, publications and other internal and external communications activities of George Washington University School of Medicine and George Washington University Hospital. During this period, I created and executive-produced Health File, a medically-oriented television segment featuring GW staff on the evening news broadcast of Washington's CBS affiliate, and Health Call, a live, weekly "call-in" medical program on Washington's public radio station.
As Assistant Director of Public Relations at the University of Virginia in Charlottesville, VA, I served as the head of the university news office, where I planned and implemented university-oriented news and feature stories for media in and outside of Virginia.
And as a reporter for the Richmond Times-Dispatch in Virginia, I served as chief of the newspaper's largest regional bureau, based in Charlottesville. In this role, I covered local government, murder trials, anti-war demonstrations, historical pageants and a wide range of general assignment stories. I wrote features on subjects ranging from the Rolls Royce Owners Club convention to extensive analysis of efforts at city-county merger within the state.
I've been recognized for my work with professional awards from the Association of American Medical Colleges (for Health File and Health Call) and the New England Society for Healthcare Communications (for Lahey Clinic Magazine and for feature writing).
A graduate of Washington and Lee University in Lexington, VA, I served as a 1st Lieutenant in the U.S. Army Ordnance Corps in Vietnam in 1967 and 1968.