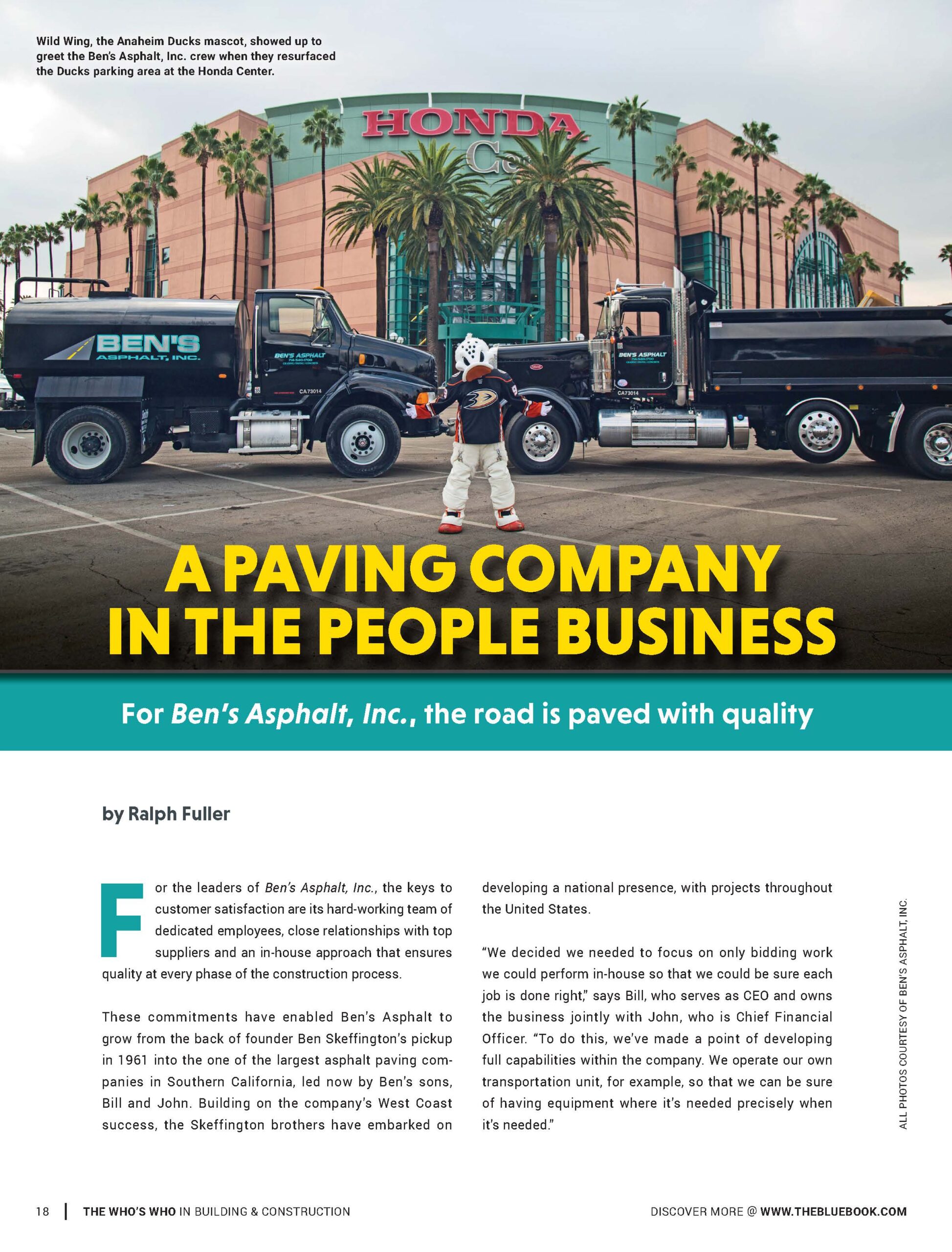 A major ongoing client these days is The Blue Book Building & Construction Network, which publishes a series of magazines called Who's Who in Building & Construction.
The magazines specialize in features profiling companies intended to make their peer organizations in the construction industry aware of their specialties and capabilities as well as the people behind the brands.
Each Spring and Fall I write a dozen or so articles for these publications, on topics as diverse as a nationally expanding paving company based in Southern California, a relatively small roofing business in Oregon, a multistate commercial roofing company in New England and a "Design | Build" architectural/contractor firm working in Louisiana and Texas.
I've enjoyed the opportunity to meet and interview (by long distance) the people involved, to learn about the nuances of many different specialties of the construction industry and – like any good journalist – to tell everybody about them.
Selected Samples: PDF will appear at bottom of window. Click to open.   
(Adobe Acrobat Reader required; for free download click here.)
Ben's Asphalt is a family-owned paving company in Southern California that considers itself in the people business as much as the paving business.
Med-Tek is a general contractor in New York City that specializes in renovations in tight spaces, next to busy areas, as in reconstruction operating rooms while heart surgery is being performed in the O.R. on the other side of the wall.
Orange Mirror and Glass provides glass and mirror installations to an impressive list of commercial as well as residential customers, all by a staff who celebrates its family atmosphere.
SUPERCAP Services West is a West Coast company using a new, advanced technique to pour concrete flooring  in buildings up to 50 stories tall. Motto: "Perfectly Flat Floors. Delivered."
Tri-State Steel Erectors is a Washington, D.C. area company that, among other things, specializes in erecting the beams and girders that make up the steel skeletons of nearly every building under construction. An additional specialty: putting that steel in places no one else can.
Universal Engineering Services is a large geotechnical engineering firm based in Florida and with a national reach that, among other things, makes sure that skyscrapers that soar into the sky reach down into the earth – and stay there.