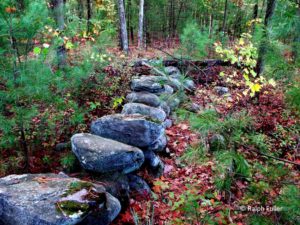 "UNDERSTANDING HOW THINGS ARE AND HOW THEY GOT TO BE THAT WAY"
Clients don't actually hire me to write history but I did quite a bit of it as a member of the historical society in my hometown, Stow, Mass., including my book about the town, Stow Things. I'm proud of it and thus have included it in my portfolio.
Combining a penchant for science writing with an interest in history may seem unlikely but for what I do, they have the same goal: Understanding the way the world is and how it got that way.
I've always been a history buff, was a history major in college, read a lot. When I was drawn into the historical society, that "buffness" took a more serious turn. Since 1950, Stow has grown significantly, especially in the last several years, as it has become an outlying residential suburb of Boston.
As someone whose business is communicating information, I found myself immersed in an historical society project to convey the rich history of the town, from its chartering in 1683 with 37 settlers to the 6,700 Stow residents of the 2000's. The initial project was a long series of history columns in the local weekly newspaper, the Stow Independent.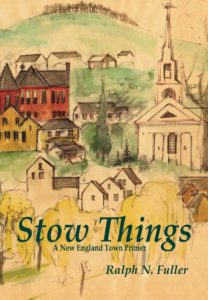 There are basically two things to understand about the "325 Things to Know About Stow" project in the Independent:
SELECTED SAMPLES
(Adobe Acrobat Reader required; for free download click here.)
"325" SERIES SAMPLE — THE STOW INDEPENDENT
From there, the Historical Society proposed its expansion into a book, which ran to 34 chapters and took another eight months or so. I supplemented historical photos from the town archives with many more photographs of my own of modern Stow. I also designed and produced the book and oversaw its printing. I'm proud to say that the project more than paid for its printing and associated costs.
STOW THINGS SAMPLE CHAPTERS
STOW HISTORICAL SOCIETY NEWSLETTERS
More often than not, the monthly online Stow Historical Society newsletter I wrote and published focused on SHS events, meeting dates and topics and the like. Once in a while I did something different, as when I realized that 2012 began the bicentennial of the War of 1812 — and that hardly anyone noticed. Here are two samples: