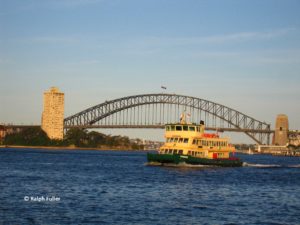 As an old reporter, I love going out, interviewing people and shooting photos for odd feature articles.
These samples reflect freelance non-science work. The photos are my own (in most cases published with the article) and to include them I've formatted the articles into web documents.
The Stow Independent was my hometown weekly newspaper in Stow, Mass. Freelancing for them didn't actually pay much money but it was extremely enjoyable to do. I wrote about a range of things for them, from events at the Collings Foundation (an educational foundation based in Stow full of antique automobiles and World War II aircraft) to a workshop on potential dam removal on the Assabet River.
SELECTED SAMPLES
(Adobe Acrobat Reader required; for free download click here.) 
STOW INDEPENDENT
TRAVEL WRITING
Bonaire Night Dive — A version of this story was published in the Boston Globe.
Sydney Harbour Bridge Climb — This article has had the honor of being rejected or ignored by eight or more travel sections throughout the country. But discerning people like my wife liked it, so here it is. Actually, I liked it too.